MDONYA OLD RIVER CAMP
News from the wild side
Mdonya Camp has had a good run on this 2018-2019 season. Excellent sightings have been plentiful and all as memorable. Whether on safaris or at the camp, the wildlife of Ruaha National Park has provided our dear guests memories of a lifetime. All photos and videos sent to us were all wonderful and making a choice has not been easy. It was then decided to share more than the TOP 10 pictures shared to us.
It is undeniable, the big cats of Ruaha are very exciting to see, on more than one occasion were the cheetahs,lions and leopards spotted!
Different natural behavior were witnessed by our guests and at Mdonya old river camp, we believe that those are the proof that we do not impact on them as much as others.
Here are just a few of our lucky guests experiences:
– We came upon a male and female together and decided to spend a while with them. Within a few minutes, it was clear that the male had some real intentions of flirting. On the other hand, the female didn't look as excited as him and was not impressed. She still let him do his work and lied there. This happened again and again every ten minutes. Sometimes the lioness was growling back and we got to see the rawest interactions ever ! It was amazing, though we were wondering if they felt any shame or be at all bothered, but clearly not! –
– Seing a leopard is so exciting because we all know that they are so well camouflaged and shy. We got to see Fundi Mtoto, the resident leopard male hanging around the camp on an afternoon. He was lying in an acacia and had killed one of the resident bushbuck also living in camp. You always wondered if you should feel sad or happy , but he was just so handsome and seing him feed was a mix of disgust and excitement rushing through! –
It was on our way to the Msembe Airstrip when our guide Sostenes answered his mobile. After a wonderful 6-nights stay at Mdonya Old River Camp and myriads of memorable sightings including even the Pangolin, we were on our way out of Ruaha NP and we all knew that we would have to leave without having seen him. Whimsically, Sostenes asked if we had an idea what the news on the mobile had been? We all knew instantly, of course. And on was the race: the aircraft leaving at 11, at least 1 hour to drive to Kilimatonga Hills and beyond, actual time was around 9 am. When we arrived at the area, where he had been spotted, some other cars were slowly moving in the bushes, telling us, that he might have already left and we were probably too late. We too, drove around the volcanic rock formations, looking for him – without success. Time was running out, and again, we accepted, that it had been a very good try, but unfortunately, and so on and so forth, when Leopard onca finally and totally unexpected crossed the track. We were left in absolute disbelief, including our guides.What followed were 16 eternal minutes that this wonderful leopard allowed us to share with him. Moments of very high activity (he must have been very hungry) alternated with moments of resting on the same rock (carefully checking the rocks and trees for prey) giving us the matchless opportunity to observe this beautiful cat in the very,very last moment of our Safari.
On our way home to Mdonya, it was late afternoon, when we came across this huge herd of cape buffalos grazing in front of majestic baobabs in the Mbagi area. To me, the quintessential subject of what Ruaha NP represents during green season – large groups of animals always perfectly accompanied by lush green vegetation – here the baobabs, themselves often outstripping the animals.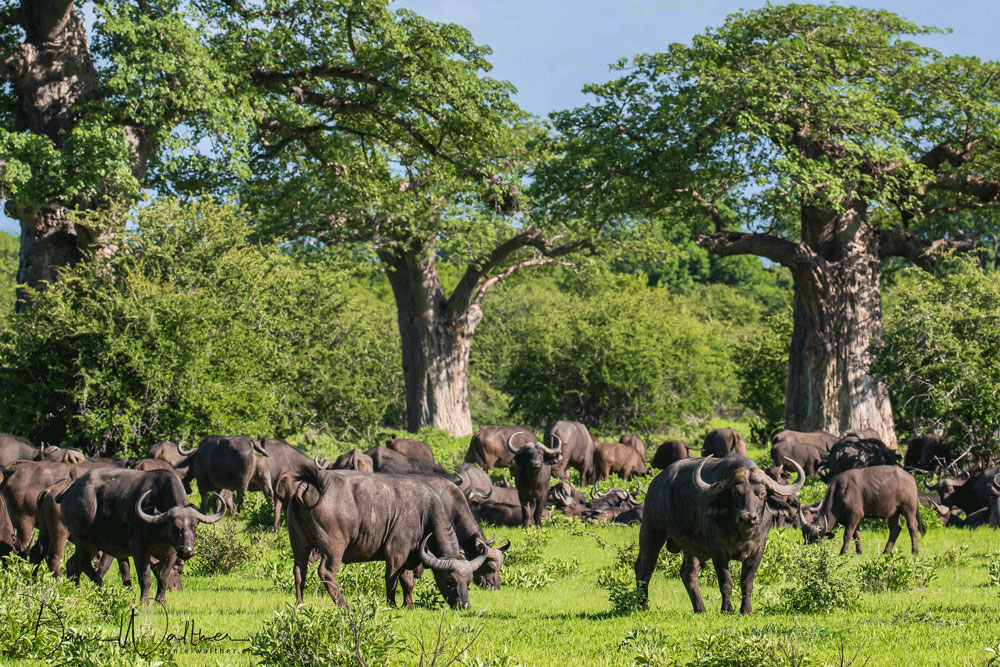 Those were just a few of the adventurous experiences our guests had whilte staying with us. Needless to say that this season was highly successfull and full of fun. But enough said, just join us!
In the hope to see you soon,
Iris, Kingsley and all Mdonya Team.