MDONYA OLD RIVER CAMP
News from the wild side
Hyenas have been around and lurking through the night at Mdonya. Many times we were visited by a few walking by our diner table but the most exciting happened when our resident leopard made an impala kill by our fireplace and a clan of ten hyenas stole it from him! The sound produced and interactions observed were amazing.
The battle of titans happened right within Mdonya Camp.
Just before the first lights of the morning, Matayo, one of our Askari reported to us that a leopard was around the camp, sniffing something we didn't know about between the tents. That morning, all our guests were ready to go on an early morning safari, and before they had time to sip their first coffee, we all followed our guardians to where he last saw the leopard. Surrounded by the rest of our masai team, our guests were surprised by a growl produced by an animal much bigger than our friendly resident leopard. All at once looking over our shoulder, and in the middle of the Masai spotlight, stood two big male lions. It turned out that the brothers had made a fully grown giraffe kill in front of tent 8 and the cheeky leopard had stolen a share!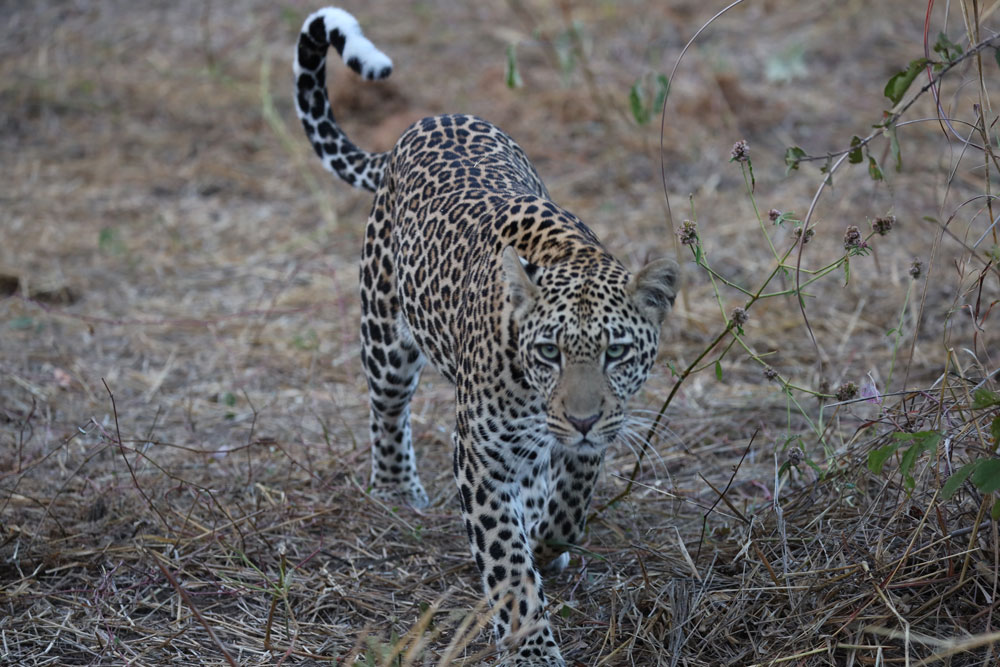 Fundi Mtoto made a few apparences in the camp, bothering the resident impala herd and waking all.
However, this month, a mighty old male was also spotted within our region and we are wondering what the outcome would be if they come across each other. Of course, it couldn't be the beloved Fundi, father of Fundi Mtoto, as leopards don't live that long which lead us to wonder if Fundi Mtoto will have to move away from our camp.
Elephants have been plentiful. On a safari, our guests got to see over one thousand in a day which is very special and raised the question if Ruaha's elephant population is increasing? Well we all hope so!
Safaris were successful with many lions, leopards, even bat eared foxes and honey badgers!
But enough said, join us on your next African adventure!
In the hope to see you soon,
Iris, Kingsley and all Mdonya Team.